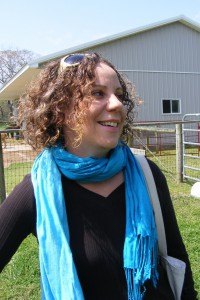 Raised on Long Island, NY and Cape May, New Jersey (Exit 0, thanks for asking), Kathryn moved to the west coast to pursue a Master's degree at the Monterey Institute of International Studies in 1998. She indeed graduated from the aforementioned school with an MA in Teaching English to Speakers of Other Languages and continued to live on the beautiful central coast of California for 13 years.
Kathryn has taught ESL, writing courses and life skills in the adult school, community college and university systems as well as in Veszprem, Hungary and the Czech countryside. She has taught poetry and performance workshops for California Poets in the Schools, Gavilan College Writing Festival, Youth Arts Collective and independently. She served as host to the once-grand Rubber Chicken Poetry Slam (co-founder), and the Monterey Bay Poetry Consortium Second Tuesday Poetry Readings, and has aired literary interviews for KUSP radio (Santa Cruz, California) and bookotron.com with all kinds of way-cool authors and a few authors who weren't in any way cool.
Kathryn's poetry has consistently planted her squarely between the angst-ridden, chain-smoking spoken word crowd and refined readings attended by refined people who wear silk scarves and would never admit that they're bored. Please see the Poetry, Reviews and Radio tab on this site for a full list of publications and appearances.
For three and a half years, she was a regular freelancer covering community events and theatre previews in the Monterey Herald's GO! entertainment supplement. She thoroughly enjoyed speaking to people about their passions and being won over again and again to ideas and projects she would never have considered on her own. What was less than enjoyable was cramming what she learned into 800-word formulaic newspaper articles; however, she now knows what a scrim is.
Her favorite thing, besides writing about herself in the third person, is story and storytelling. Story creates space around which we can reflect on our lives. Delving into conversations about the places the page and the stage interact is one of her very favorite activities. She believes performance is just another avenue for people to center their lives around creating art, which Kathryn feels strongly is pretty much what we're supposed to do while we're here. She has been known to burst out sobbing at the sound of a beautiful singing voice.
For Kathryn, political statements and art go together like PB&J. Not that the former is necessary for the latter to exist. She admires fireflies and sarcasm a great deal, both of which seem to be in short supply on the west coast and could be why she returned to the east in the summer of 2011.
Kathryn's most interesting job was probably her gig as a bag of popcorn in a supermarket in Queens, NY. These days, she covets Ira Glass' job at the radio show "This American Life" in a not-so-secret way and spends the majority of her time chasing after her 7-year-old and one-year-old sons.